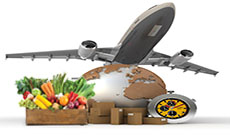 Hon. Saboto Caesar, Minister of Agriculture, Forestry, Fisheries and Rural Transformation, said that farmers in St. Vincent and the Grenadines will soon have direct air access to take their produce overseas to buyers in a timely manner.

He made the statement during a recent press conference, which was held to update the nation on the preliminary work being done for the establishment of the local coffee industry.

Minister Caesar said that the Ministry continues to develop the Agri-Export Strategy Initiative, which will see farmers being able to export their produce to traditional and non-traditional markets.

He noted that this is the first time in the history of our country for the agricultural sector to have international air access from St. Vincent to the markets.

The Minister further stated that during this year they will be working with farmers' organisations to ensure that the farmers take full advantage of the Agri-Export Strategy Initiative during this year.
SOURCE: NBC