Saint Vincent and the Grenadines was represented at the Second Global Parliamentary Summit Against Hunger and Undernourishment which took place in Santiago, Chile on June 15 and 16, 2023.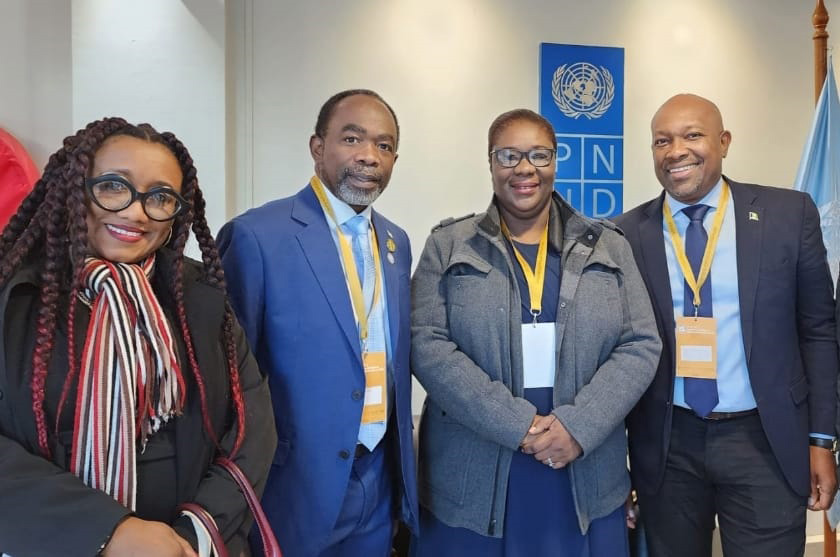 The three-member delegation was led by Minister of Agriculture, Fisheries, Rural Transformation and Labour of Saint Vincent and the Grenadines, Hon. Saboto Caesar.  The other delegates were Dr. Coleen Phillips, Food and Agriculture Organisation (FAO) In-Country Representative and Safiya Horne-Bique, Chief Executive Officer, Saint Vincent and the Grenadines Zero Hunger Trust Fund.
The Minster presented to the forum the 'Zero Hunger Trust Fund' Mechanism as a platform for the creative financing of vulnerable families and communities as an interim measure to address hunger.  Minister Caesar stressed the need for sustainable interventions, such as increasing production among family farmers, through the establishment of well organised Agriculture Value Chains.
The Agriculture Minister indicated that it is through this strategic engagement in production in this case where the factors of production are provided as a means of support to the food vulnerable, can we truly see an increase in economic output and consequently the alleviation of poverty among many who are currently food insecure.

Saint Vincent and the Grenadines was the first English speaking country in the Caribbean to establish a Parliamentary Front against hunger and undernourishment, pursuant to the 2030 Zero Hunger goal.  Minister Caesar has championed for the past decade with other parliamentarians in Latin America and the Caribbean for the establishment of Parliamentary Fronts Against Hunger and Undernourishment.
Today over 800 million citizens around the world fall within the category of food vulnerable, with 50 million being from the Latin American and Caribbean region.
The conflict between Russia and Ukraine and the impact of climate change and the Covid-19 pandemic continue to affect global food systems.
Saint Vincent and the Grenadines currently holds the PTP of CELAC.  The Ministers of Agriculture of CELAC will meet in Georgetown, Guyana on June 27, 2023, to discuss primarily the 2025 CELAC Food and Nutrition Security plan.
SOURCE:  Ministry of Agriculture, Forestry, Fisheries, Rural Tansformation, Industry and Labour