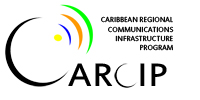 Invitation for Bids (IFB)

May 27 2016
Countries: Grenada, Saint Lucia and St. Vincent & the Grenadines
Project : Caribbean Regional Communications Infrastructure Programme
IDA Credit No: 51170 – LC
IDA Credit No:51180-VC
IDA Credit No:51190-GD
Contract Name: Design, Supply, Installation and Maintenance of Broadband Backbone Network
This Invitation for Bids seeks to procure Broadband Backbone Networks to be designed, supplied, installed and maintained in three countries, Grenada, Saint Lucia and St. Vincent and the Grenadines as follows:
Three (3) Lots: as specified below:
Lot 1: Government Wide Area Networks (GWANs) for Grenada, Saint Lucia and St. Vincent and the Grenadines;
Lot 2: Broadband Internet Services for Schools, Community Centres and other Locations for  Grenada and Saint Lucia; and
Lot 3: Undersea Cable System connecting St. Vincent and Grenada with Bequia, Mustique, Canouan and Union Island (possessions of St. Vincent) and Carriacou (possession of Grenada).
The identification numbers for this ICB are as follows:
Grenada: CARCIP/ICB/0011
Saint Lucia: SLU-CARCIP-ICB-G-BBN-01-14
St. Vincent and the Grenadines: SVG-CARCIP-G-ICB-2
1. This Invitation for Bids (IFB) follows the General Procurement Notice (GPN) for this project that appeared in UNDB online on March 15, 2013 and published on the Dg Market on February 25, 2013.
2. Grenada, Saint Lucia and St. Vincent & the Grenadines have received funding from the International Development Association (IDA) toward the financing of the Caribbean Regional Communications  Infrastructure Program (CARCIP) and intends to apply part of the proceeds of these funds to payments under the agreement (s) resulting from this IFB for the PUBLIC PRIVATE PARTNERSHIP IN Design, Supply and Installation of National Broadband Backbone Networks.
3. The Project Coordination Unit, Ministry of Finance, Grenada acting on behalf of the Implementing Agencies: Ministry of the Public Service, Information and Broadcasting Saint Lucia, Ministry of Communication, Works and ICT, Grenada and Ministry of Economic Planning, Sustainable Development, Industry, Information and labor, St. Vincent and the Grenadines,  for the project,  now invites sealed bids from eligible Bidders for this PPP whose purpose is to Design Finance Build Operate and Transfer  broadband backbone network as specified in the table below. The PPP is intended to operate potentially as DFBOT for a period of Fifteen (15) years
  This bid consists of the following three Lots: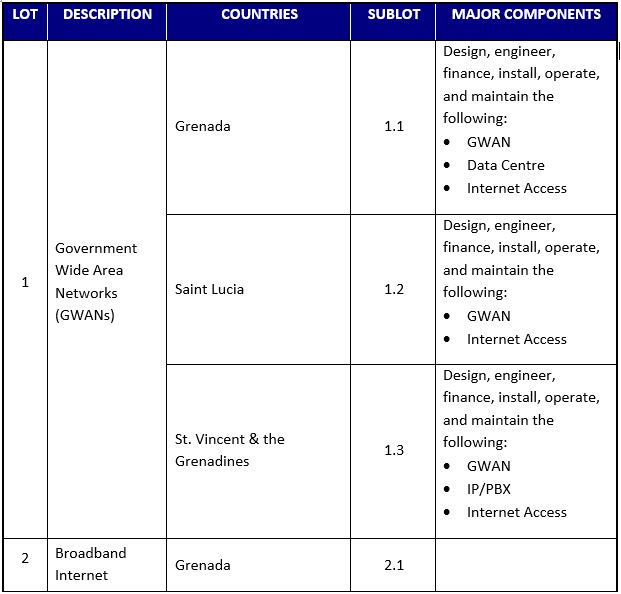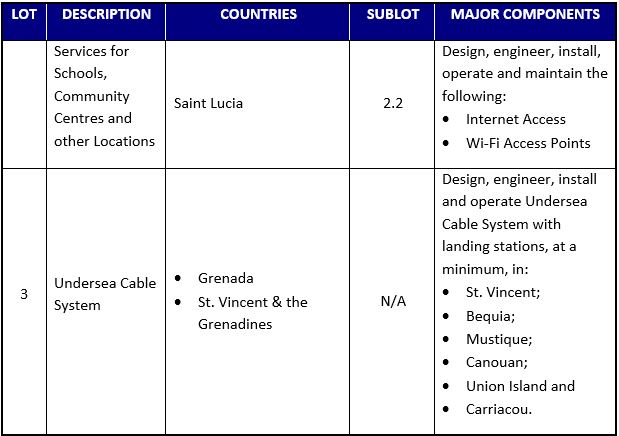 This procurement activity includes supply of equipment, installation, technical support and operating and maintenance.
4. Bidders can bid on one or more of the lots, but must bid for all of the items and associated services for each lot. Contracts will be awarded per Lot.
5. The successful bidder(s), in order to provide telecommunication services to the Government and as a significant private sector component of the public-private partnership, must design, install, maintain and operate fibre optic networks in and/or between the three countries to provide the services required by the three Lots. All these activities shall be partly financed and completed by the bidder(s) in connection with the provision of the services.  As part of Lot 3, undersea cable services shall also be made available to other service providers and large end users on a wholesale, open access basis.
6. Under the Contracts, as the primary public sector component of the public-private partnership, the Governments will contribute the following existing resources:

7. Bidding will be conducted using the International Competitive Bidding (ICB) procedures specified in the World Bank's Guidelines: Procurement under IBRD Loans and IDA Credits, edition of the World Bank's Guidelines: Procurement under IBRD Loans and IDA Credits, edition of January 2011, and is open to all Bidders eligible as defined in these Guidelines, and defined in the BDS that meet the following minimum qualification criteria:
Prior experience with the development and operation of broadband backbone network or other systems of similar technical nature and complexity;
Financial capacity to fund this PPP contract. The capacity must be demonstrated by a presentation of the projected cash flow needs based on the bid price for performing this PPP contract over the contract duration of fifteen (`15) years
Ability to demonstrate prior successful implementations of similar projects;
Ability to establish a fully qualified and experienced team, to fulfil the design, installation, training, management and operation for a period of fifteen (15) years.
 8. The principles underlying this PPP approach include: (a) private-sector led supply of the infrastructure, supported by least-cost public subsidy; and (b) infrastructure shall be provided on non-discriminatory, open access and competitively neutral basis.
9. Interested eligible Bidders may obtain further information from the Project Coordination Unit, and inspect the bidding documents at the address given below (*) from May 27, 2016 from 0900 hours (9:00am) to 1500 hours (3:00 pm) daily from Monday to Friday.
10. A complete set of bidding documents in English may be purchased by interested Bidders on the submission of a written application to the address (*) below and upon payment of a non-refundable fee of EC$ 540.00 or USD200.00. The method of payment will be by certified cheque, or Bank transfer to Grenada Co-operative Bank, Church Street, St. George's, Grenada  (Account #128000087; Swift Code: GROAGDGD) payable to the Government of Grenada - CARCIP. The Bidding Documents will be sent by courier to interested bidders from abroad.
11. A pre-bid meeting which potential bidders may attend will be held on June 23, 2016.
12. Bids must be delivered to the address below (**) on or before July 29, 2016 at 2:45p.m. (1400 hours). Late bids will be rejected.  Bids will be opened in the presence of the Bidders' representatives who choose to attend at the address (***) on July 29, 2016 at (3:00 p.m.) at the address specified below (***).
13. All bids must be accompanied by a bid security of not less than:
Lot 1: EC$ 120,000
Lot 2: EC$  60,000
Lot 3: EC$   80,000
 or an equivalent amount in a freely convertible currency.
14. The attention of prospective Bidders is drawn to (i) the fact that they will be required to certify in their bids that all software is either covered by a valid license or was produced by the Bidder and (ii) that violations are considered fraud, which is, among other remedies, punishable by potential blacklisting from participation in future World Bank-financed procurement.
The address(es) referred to above are:
* (For clarification purposes)
The Project Coordinator
Project Coordination Unit
Attn: Margaret Belfon, Project Coordinator
Ministry of Finance
GCNA Complex
Telephone: (473) 443-0531/0532
St Georges
Grenada
Fax: 1-473-443-0533
Email: This email address is being protected from spambots. You need JavaScript enabled to view it., This email address is being protected from spambots. You need JavaScript enabled to view it., This email address is being protected from spambots. You need JavaScript enabled to view it.
** (Submission of Bids)
Public Tenders Board
Attention, Chairman, Public Tenders Board
Ministry of Finance
Financial complex
The Carenage
St. Georges, Grenada
***Meeting of the Central Tenders Board
Public Tenders Board
Ministry of Finance
Financial Complex
The Carenage
St Georges, Grenada